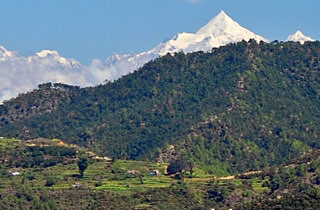 If you are lovers of nature and reasonably physically fit, then we invite you to come and spend some of your holidays with us in Jilling.

We offer you over 120 acres of oak and rhododendron mixed forests to walk around in and a very healthy bird and animal population to view. And the snows are straight ahead with Nanda Devi, the highest peak, dominating. Our height ranges from 6000 to 7200 feet above sea level and we have snow in winter.

Since we have very thick forests and are north facing, there is plenty of good spring water. We do not farm in a big way, except to grow vegetables and a few apples, plums, apricots and chestnuts, which are shared by our birds and animals. Pesticides and chemical fertilisers are banned.

The estate has a rich and varied wildlife. There are jungle cats, mountain deer,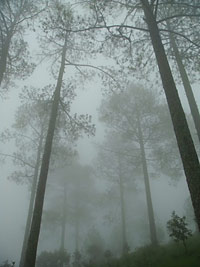 wild boar, a great variety of Himalayan birds and occasionally bear and leopard. It is fed by a mountain spring with pure mineral water and on clear days there is a breathtaking view of the eternal snows. There are long and peaceful walks where you will have the forest all to yourself.

In the evening you may have your meal around a bonfire under the stars or besides a crackling logfire in your room. There are villages a few kilometres away and it is enjoyable to interact with the hill folk. Not being connected to the road Jilling is a peaceful haven ideal for nature lovers. Bird watchers will find it specially enriching.

The Royal Pheasant Society of Great Britain have been frequent visitors to conduct studies on the endangered Cheer Pheasant. Honeymooners too should find the seclusion to their liking!

Arrangements are also made for anyone who wishes to go further North towards the snows, for trekking, fishing, birding and wild life viewing. We can also arrange trips to temples, historical places and any other places of special interest to the visitor in the Kumaon region. Over the years, we have let even clear areas go back to nature and our forests are now widespread.


The custom we get from guests goes back into conserving and maintaining the place and we do not take more than 4-5 couples at a time. The accommodation is dispersed and guests can roam freely and be quite alone. Sometimes, we take out small groups of around 8-15 people to the high altitude border areas for trekking tours of 6-12 days depending on the area.

The two periods are from April-June and September-October. Kumaon is not very crowded with tourists in these areas and the scenery is stupendous with wild flowers in bloom stretching from the high altitude pastures to the snowline. The maximum height we go up to is about 15-16 thousand feet above sea level.

Alternately, we take out motor trips with camping gear and food, and guests can bed down in comfort at scenic locations away from crowded rest houses etc. Apart from visiting beautiful and interesting places like historic temples, caves etc., you can also incorporate light activities like hiking and fishing.

Jilling is a 2 km walk up from the road head and we have kept it this way to discourage too many people from wandering around and spoiling the place.
- steve, parvati, nandini and richard
Check out our tariffs and cottages. Or, make an enquiry.